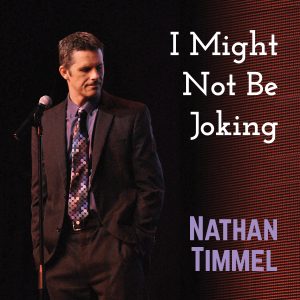 It's Here…
My 5th CD, I Might Not Be Joking, is now available in many formats. And by "many," I mean "physical CD" and "digital download."
(Sorry, 8-Track enthusiasts.)
Recorded at Mark Ridley's Comedy Castle in Royal Oak, Michigan, it's 48 minutes of giggle-riffic material.
You can download it on iTunes and Google Play, or buy a physical copy (or download it) from CD Baby.
Thanks, and hope you enjoy it!
~nathan


Getting Around
So, you're here. Now what? From the top menu, you can read my blog, watch videos, check out my books, or browse/share memes. You can also find me on Spotify, Pandora, and SoundCloud.
Listen to my weekly comedy podcast, Idiots on Parade: The Too Ugly for TV Podcast. Click the badge at the bottom of the page. (Just remember to minimize the screen and mute the speakers when the boss is coming.)
To book me, ask about my upcoming shows/available dates, or just to say "Hi," shoot me a message on the Contact page. I promise to say "Hi" back, or answer any question I can. As long as it's not too difficult, like: "Where do babies come from?"
Looking for my bio? Check the About Nathan page.
Want an email heads-up when there's new stuff to see?