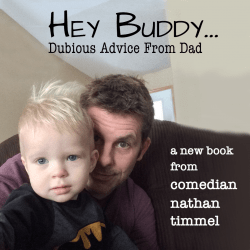 It's here.
My newest book, Hey Buddy… Dubious Advice from Dad, is available for purchase, both as a real, live, hold-it-in-your-hands paperback, and as a digital download on the Kindle.
What's it about? Let's take a gander at the back cover description:
Every father wants to protect his children from making the same mistakes he made, and comedian Nathan Timmel is no exception.
In his follow-up to It's OK to Talk to Animals, Nathan shares life's most important lessons with his toddler son. No topic is off the table as Nathan writes about everything: racism, rape, heartache, selecting (and respecting) a mate, the struggles of being a stand-up comedian, parenting in the age of cellphones, and how not to wish someone "Happy Birthday" on Facebook.
In between the laughter, insights, and cringe-worthy moments, you'll bear witness to poignant and important lessons for men both little and large.
Well that sounds inherently readable, doesn't it? I think you should click that big blue button right there and pick up (or download) a copy, now.

You've made it to my webpage…
So, you're here. Now what? Well, from the top menu, you can read my blog, watch videos, check out my books, or browse/share memes. You can also find (and request) me on Pandora and Sirius/XM radio.
Listen to my weekly comedy podcast, Idiots on Parade: The Too Ugly for TV Podcast. (Just remember to minimize the screen and mute the speakers when the boss is coming.)
To book me, ask about my upcoming shows/available dates, or just to say "Hi," shoot me a message on the Contact page. I promise to say "Hi" back, or answer any question I can. As long as it's not too difficult, like: "Where do babies come from?"
If you sign up for my newsletter (over there on the right if you're on a desktop, or somewhere in the scroll if you're on mobile), I'll shoot you a link to download my 4th CD for free.
Looking for my bio? Check the About Nathan page.
There you have it. Thanks for stopping by, and tell all your friends and family to visit, too.
*hugs*
nathan
Want an email heads-up when there's new stuff to see?