We all have vices. Some people drink. Some smoke. Others bite their nails or run marathons (rather healthy vices, don't you think?).
Me, I write. Check out my two full-length published books and my ever-increasing collection of 99-cent mini-books.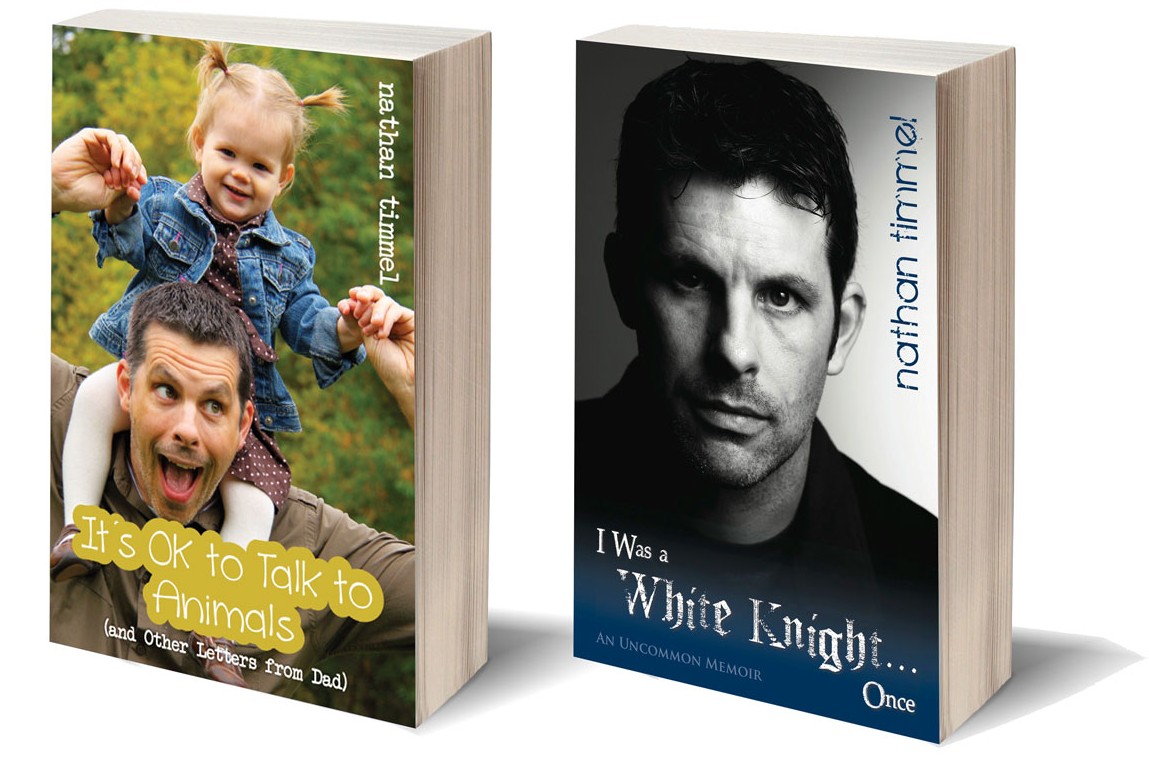 It's OK to Talk to Animals (and Other Letters from Dad)
Released: 2014 • Available in Paperback & Kindle versions
First steps, first word, first time pooping in the bathtub… as a stand-up comedian, Nathan Timmel missed numerous milestones during the first year of his daughter's life. Traveling from town to town, he spent his night slinging jokes while his daughter Hillary discovered the world around her. As she turned one, Nathan vowed to be a part of her life even when far from home. Writing a letter a week, Nathan tells his toddler where he is and tries to give context to her world: why Daddy travels, why a baby brother or sister isn't the end of the world, and the importance of dismantling the pharmacy section at Target.
I Was a White Knight… Once
Released: 2011 • Available in Paperback & Kindle versions
What causes a man to stand on a stage, telling jokes and looking for the approval of strangers? For Nathan, the answer lies in his upbringing: ten cities, ten schools, and ten sets of friends within the first decade of his life. Parents with a volatile marriage. Fortunately, Nathan turned his inner mayhem into a profession. This memoir follows Nathan's life through blissful childhood ignorance, self-loathing, and absolution. We follow Nathan to Iraq and Afghanistan, where he performed for American troops stationed far from home. Funny, poignant, and uplifting, Nathan's story of personal struggle and redemption is a unique glimpse into someone still looking for the approval of strangers.
99¢ eBooks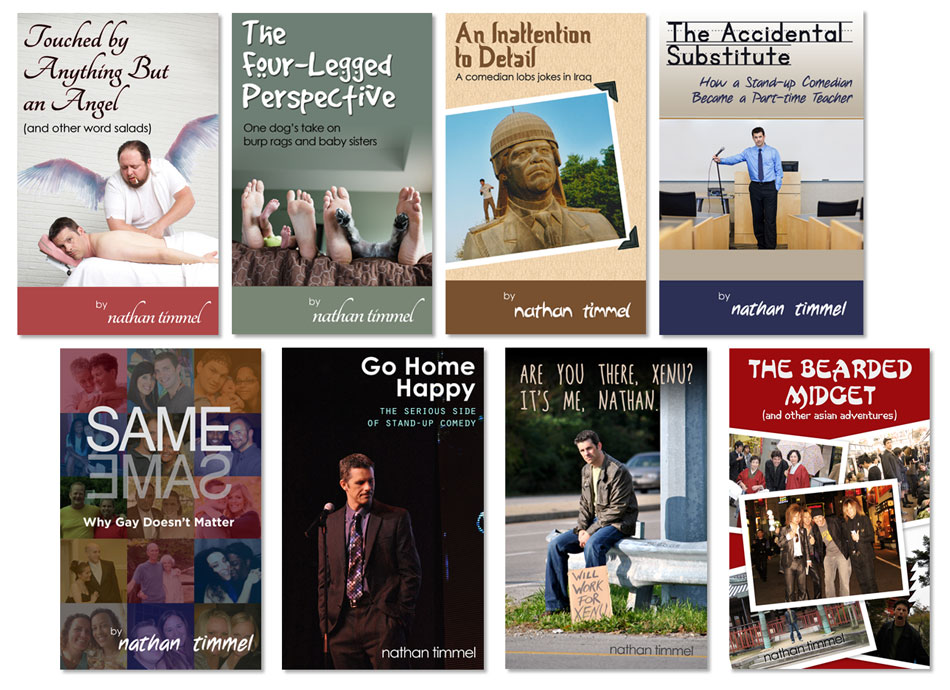 The Bearded Midget (and other Asian adventures)
Released: 2015 • Available in:  Kindle version
Comedians often travel around the world to entertain troops stationed far from home. Sometimes, this is a good thing. Sometimes… maybe not. Nathan describes his travels through Japan and South Korea, telling tales of mishaps and comic adventures in the Orient.
Are You There, Xenu? It's Me, Nathan
Released: 2014 • Available in: Kindle version
In 1991—with no Internet available to quickly look up the practice made famous by Tom Cruise and John Travolta—a person needed hands on experiences to determine whether or not a religion was for them. Nathan and a couple of his college friends took personality tests, listened to the sales pitch, and went on their merry ways. Years later, in an unofficial follow up to that initial salvo with Scientology, Nathan had the opportunity to fart around with an E-Meter. Both tales are included in this mini-book.
An Inattention to Detail: A Comedian Lobs Jokes in Iraq
Released: 2013 • Available in:  Kindle version
Telling jokes to soldiers who face death every day is a different kind of performance – no stages, microphones, or spotlights. All the while, armed escorts scan the perimeter for signs of danger. A most notable—and unfortunate—difference is: when playing a comedy club in America, you don't tour the local emergency room and receive information about the customer who died there last week. Thought-provoking, sentimental, and an unflinching critique of a seemingly lazy mainstream media, An Inattention to Detail is a reflection on the unique responsibility of delivering punch lines to those who need laughter the most.
The Accidental Substitute: How a Stand-up Comedian Became a Part-time Teacher
Released: 2013 • Available in:  Kindle version
What happens when you put a stand-up comedian in a classroom full of middle schoolers, not as an entertainer, but as their teacher? A bit of hilarity ensues, as you'd expect. But more importantly, you get a glimpse of the American education system from an unexpected source — a system that's startling in contrast to just a few years ago. Delivering a refreshing outsider's take on the state of the classroom, Nathan explains how the current system is letting our kids down and their parents off the hook too easily. Funny and brutal but always honest, "The Accidental Substitute" will leave you laughing and itching to kick a desk.
Same Same: Why Gay Doesn't Matter
Released: 2013 • Available in: Kindle version
As a straight white male, Nathan Timmel fits neatly into the demographic most likely to fear the LGBT community. In his essay Same Same, Nathan describes how an upbringing devoid of homophobia—something unusual for a Midwest town in the early 1980s—prevented him from falling into the trappings of bigotry. With stories from childhood to current day, Nathan describes the intolerance he witnessed in small-town Wisconsin; gay bars he tentatively visited in Milwaukee; a near-miss with gay bashing in Boston; and a run-in with an overly zealous fella at the gym. Despite surroundings that should have tainted his point of view, Nathan turned a shoulder to the negativity, returning instead to the strong belief instilled in him as a child: love is love, no matter the gender of those involved.
Go Home Happy: The Serious Side of Stand-up Comedy
Released: 2013 • Available in: Kindle version
"You're a comedian? That must be awesome!" It's a familiar response from people who've just met someone that calls comedy their full-time job. On the surface, it's glamorous: laughter, bright spotlights, and traveling the world. But like sausage-making, the real action is far from pretty. What goes unseen is the struggle undertaken by comedians to perform on that stage. In Go Home Happy, stand-up veteran Nathan Timmel leads the reader through a funny, pride-swallowing journey navigating the minefield of club owners, booking agents, drunken hecklers, and unexpected friends, to reveal the struggles and rewards that come with this spotlighted territory.
The Four-Legged Perspective — One Dog's Take on Burp Rags and Baby Sisters
Released: 2012 • Available in:  Kindle version
How does a dog's life change when a brand-new baby is brought into the house? Kitty, a four-year-old Miniature Schnauzer with an unusual name, tells it like it is in this entertaining glimpse into the mind of a four-legged friend. The Four-Legged Perspective is a light-hearted romp for parents and pet-owners, reminding us that sometimes what seems to be the worst thing ever may turn out to be the best.
Touched by Anything But an Angel
Released: 2012 • Available in:  Kindle version
A four-chapter mini-book:
Touched by Anything But an Angel, which describes the uncomfortable fun of a man-on-man massage.
Death Before Dying, detailing one comedian's tour through Afghanistan slinging jokes to American troops.
A Nose for All That is Unholy, the story of a friend's special… let's call it a "skill."
A Moment in my Mother's Shoes, a tale somewhat based around the Sterling Hall bombing in Madison, WI.